Spiral wire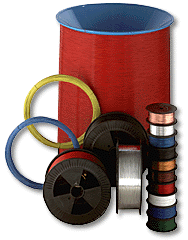 Our product range comprises spiral wires for spiralising machines and wire comb forming machines in the dimensions of:
0,7 mm to 1,2 mm.
Moreover, we offer calendar suspension wires in the dimensions of:
1,5 mm to 2 mm.
These articles are available in
– bright, zinc-coated, copper-coated, tin-coated and nylon-covered (coloured) design
– on all standard spools from 2 to 800 kg
– in drums from 40 to 300 kg.